SchoolStatus Data & Student Analytics Platform
Demonstration [17 mins]
---

SchoolStatus Overview Flyer
Improve school climate
Narrow achievement gaps
Connect with specific student sub groups
Choose the only parent communication platform that utilizes student data to reach every parent.
"Effective data collecting and parental communication is challenging for even the most seasoned educator. SchoolStatus's integration of essential resources into a singular vehicle has made the gathering of student data and parental communication practical. I am now able to more efficiently and consistently collaborate with parents as well as focus more intently on enriching the whole student."
---
I Didn't Know We Could Do That?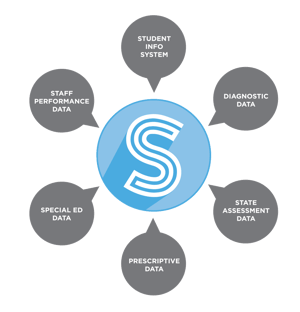 This is a common response we hear when educators and administrators see the SchoolStatus platform for the first time. They didn't know it was possible to see ALL of their student data—from the information you're already collecting in siloed systems—aggregated and scoped for the district, campus, grade or individual student level like:
State & Local Assessments
Benchmarks
Grades
Attendance
Discipline
Plus School and Parent Communications
What's the potential for your district when teachers, principals, counselors, directors and district administrators are all working from the same student information platform?
You'll see more data-driven decision making and simplified ways to identify students who are at-risk as well as the ability to analyze growth and performance.
---

Honored to be chosen in the category of Best Collaborative Community Solution